"You're just a lousy excuse of a DarkClan cat who can't see past their own nose!"
— Stella to Blade in DarkClan
Stella


Alliances
Current Clan
DarkClan
Past Clan(s)
FlameClan
Life
Age
old
Status
Deceased Still forever a Queen kthxbai
Debut
Unknown
Death
Kitting
Names
Names
Spike: Stella
FlameClan Cat: Shatteredpelt
Queen: Stella
Family
Mother
Unknown
Father
Unknown
Littermates
None
Mate
Blade (Formely), Crow That Flutters Through Air (Formerly), Eclipse (Formerly), Dash (Formerly)
Kit(s)
First Litter: Alison, Snow
Second Litter: Fang
Third Litter: Nocturne, Tabitha
Fourth Litter: Roran, Triumph, CS
Fifth Litter: Wolverine
Education
Mentor(s)
None
Apprentice(s)
None
Fanfiction Appearances
Living
None/Unknown
Deceased
None
Relationships
Sexuality
None
Best Friend
None
Crush
None
Worst Enemy
None
Alliances
Roleplayer
Whiskers
Stella
is a slender cream and white tabby she-cat with bright blue eyes, a scar over one eye, a red dog-tooth studded collar, and a missing left ear. She's a Spike of
DarkClan
, well-known for being sassy, stubborn, and an all-around pain. She has many former mates, having their kits so she doesn't have to feel the wrath of
Amber
and
Snaketooth
, so she's made herself into a Queen. Her former mates are 
Blade
,
Crow That Flutters Through Air
, 
Eclipse
, and
Dash
. She is the mother of
Alison
, 
Snow
,
Fang
,
Nocturne
, 
Tabitha
,
Roran
,
Triumph
, CS, and
Wolverine
.
Description
Edit
Appearance
Edit
Coming Soon
Character
Edit
Coming Soon
Coming Soon
Coming Soon
Roleplay 
Edit
Not Yet Seen
Coming Soon
Mate(s):
Blade (Formerly) - Deceased, residence Unknown
Crow That Flutters Through Air (Formerly) - Living
Eclipse (Formerly) - Deceased, residence unknown
Daughters:
Alison - Deceased
Snow - Deceased
Tabitha - Living
Sons:
Fang - Deceased, residence unknown
Nocturne - Living
Relationships
Edit
Coming Soon
She will have multiple flings with multiple toms to have a few litters, as she doesn't like being a Spike and being bossed around by Snaketooth and Amber. By being in the nursery, she believes she'll be more respected, especially if she supplies strong kits.
She will eventually settle down with one tom.
Perma-queen 5ever. Ferncloud the second
Lykoi gene carrier.
Life Image
Edit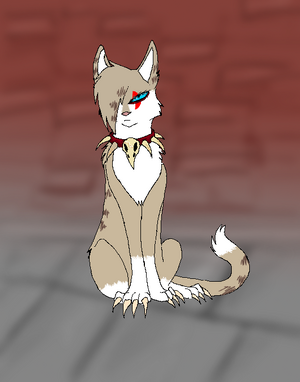 Character Pixels
Edit
Ad blocker interference detected!
Wikia is a free-to-use site that makes money from advertising. We have a modified experience for viewers using ad blockers

Wikia is not accessible if you've made further modifications. Remove the custom ad blocker rule(s) and the page will load as expected.