Flare


Alliances
Current Clan
FlameClan
Past Clan(s)
Loner
Life
Age
Unknown
Status
Unknown
Debut
Unknown
Death
Unknown
Names
Names
Flare
Family
Mother
Unknown
Father
Unknown
Littermates
None
Mate
None
Kit(s)
None
Education
Mentor(s)
None
Apprentice(s)
None
Fanfiction Appearances
Living
None/Unknown
Deceased
None
Relationships
Sexuality
None
Best Friend
None
Crush
None
Worst Enemy
None
Alliances
Roleplayer
Kas
Flare 
is a beautiful, sleek-furred, gallent white she-cat with blazing orange eyes.
Description
Edit
Appearance
Edit
Coming Soon
Character
Edit
Her gaze always seems to be plagued by confusion, but warm and welcoming to anyone she meets. Seemingly odd, she is always muttering strange nonsense to herself, unaware of cats looking at her strangely. She is unlike your average playful youthful cat, and is usually off track, causing her to be laughed at constantly (especially when she was young), though she doesn't seem to mind. Though she tries his very best, Flare constantly fails at learning new hunting techniques or battle moves, her paws clumsy and slow though from her looks, most cats would think that she would be agile.
Due to the fact that she is quite strange, she doesn't really have any friends though she wished he had some. Despite all this, she loves her new Clanmates and the few friends that she has very much, but is constantly wondering if she really fits in, or belongs.
Coming Soon
Coming Soon
Roleplay 
Edit
Not Yet Seen
She'll eventually settle down with a mate, but she'll die trying to save him. 
Coming Soon
Relationships
Edit
Coming Soon
Love Interests
Edit
Flare feels as that Redclaw is and will forever be her only friend, and admires this tom with all of her heart. She loves him to the moon and back, and would most likely give up her life for him if she could. Though, she does a very good job at hiding her feelings, knowing that it would make their friendship fail and it would only grow awkward between the two. She loves to spend time with this tom, and keeps herself in terms of friendship. However, she does wish to settle down with a mate that actually loves her back. 
Coming Soon
Coming Soon
Life Image
Edit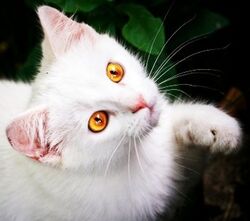 Character Pixels
Edit
Ad blocker interference detected!
Wikia is a free-to-use site that makes money from advertising. We have a modified experience for viewers using ad blockers

Wikia is not accessible if you've made further modifications. Remove the custom ad blocker rule(s) and the page will load as expected.