Fish is an orange tabby tom with white patches and amber eyes.
Description
Edit
Appearance
Edit
Character
Edit
Fish is an optimistic. He's always looking for the bright side of things, and hates to be upset. Sometimes he's happy for almost no reason, and why shouldn't he be? Simple things give him delight: a blooming flower, fresh snow, a light rain. He often behaves younger than he usually is, frisking about and enjoying himself. He's actually quite introverted, his own self is his most cherished company. However, he does love talking to cats and having fun.
He is a bit of a flirt, and has an odd sense of humor. He is suave around she-cats, a behaviour which often leads them to be irritated with him. His sense of humor is dry, and he often makes a joke without others realizing.
Inside, Fish is a very sensitive and caring cat towards others. He is extremely perceptive of emotions, and behaves accordingly. His social skills are good, and he has mastered the art of tact.
Fish never knew who his father was, and was brought up outside the Tribe.
Life Image
Edit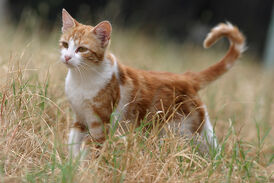 Ad blocker interference detected!
Wikia is a free-to-use site that makes money from advertising. We have a modified experience for viewers using ad blockers

Wikia is not accessible if you've made further modifications. Remove the custom ad blocker rule(s) and the page will load as expected.